This article is about
Species II novel adaptation
. You may be looking for
Species II, the movie itself
.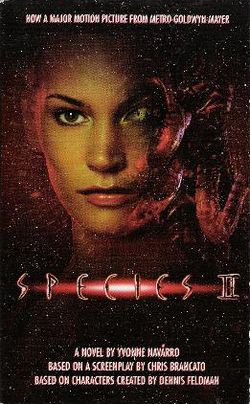 Species II novel written by Yvonne Navarro is based on the screenplay of Species II film by Chris Brancato.
Product Details
Edit
Paperback: 278 pages
Publisher: Tom Doherty Assoc Llc; First Edition edition (July 1998)
Language: English
ISBN-10: 0812570758
ISBN-13: 978-0812570755
Product Dimensions: 0.8 x 4.5 x 7 inches
Weight: 5.6 ounces
Ad blocker interference detected!
Wikia is a free-to-use site that makes money from advertising. We have a modified experience for viewers using ad blockers

Wikia is not accessible if you've made further modifications. Remove the custom ad blocker rule(s) and the page will load as expected.