This article is about
Species, the 1995 comic
. You may be looking for
other things named Species
.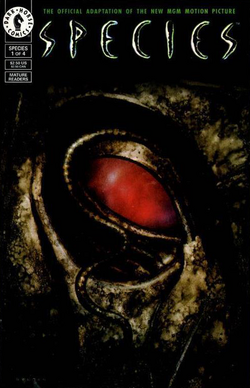 Species is an official comicbook adaptation of the Species movie by Dark Horse Comics.
Written by Dennis Feldman
Pencilled by Jon Foster
Inked by Brian Kane
Lettered by Pat Brosseau
Colored by Rachelle Menashe
Cover Art by John Bolton (#1-3), Peter Mitchell Rubin (#4)
Edited by Robert V. Conte
Designed by Fuentes


Ad blocker interference detected!
Wikia is a free-to-use site that makes money from advertising. We have a modified experience for viewers using ad blockers

Wikia is not accessible if you've made further modifications. Remove the custom ad blocker rule(s) and the page will load as expected.